Successful insurance conference organized by ALA in Dubai
19th April 2006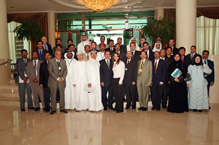 Ian Watt, Director of our subsidiary Concordia Mediterranean Ltd. and Concordia Regional Coordinator for the Middle East, has taken part as a speaker to the seminar on "Business Interruption and the Significance of Catastrophe Response and Business Continuity Planning" on April 19/20th 2006 at the Al Murooj Rotana Hotel in Dubai, UAE. The seminar was organized by Arab Loss Adjusters (ALA), our exclusive Associates in the Middle East, in conjunction with the Emirates Insurance Association and Concordia.
Ian's presentations addressed the following topics:

* Catastrophe Response Planning and Loss Control;
* Principles of Business Interruption Insurance;
* Scope of B.I. Coverage.

More than 50 delegates from all over the region (UAE, Oman, Qatar, Saudi Arabia, Iran, Kuwait, Egypt, Lebanon, Yemen, and Jordan) attended the seminar and subsequent debate.
click here for presentations

click here for thank you letters to Paul May and Ian Watt