Thailand Floods - Adjusting Team Update
6th December 2011
Together with our local associate Bell Survey, Concordia are in the process of assessing a number of large property and business interruption claims.
Work is underway in Thailand to drain water from many of the areas impacted by severe flooding over the past few months. Five of seven major industrial estates impacted by the floods have now been drained and the process of assessing the damage and cleaning up has now begun. The Thai Government has advised that Bangkok will be free from flood water by the end of the year.
The draining of the flood water is seen by many as the end of the crisis however in reality this represents the start of insurance claims process. With most sites now accessible, adjusters are busy completing preliminary inspections of loss locations and over the next few weeks a clearer picture of losses will emerge.
The photograph below shows Sam Koh (Concordia's Singapore MD) and Raymond Tierra (Bell Survey) assessing one loss location: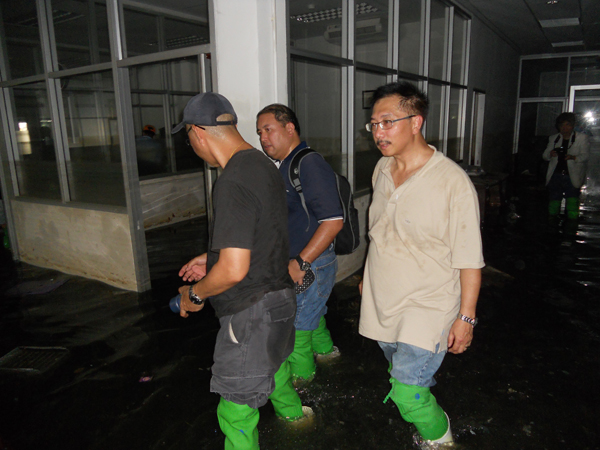 A number of significant challenges remain for Insurers with exposures in Thailand.
The specialist nature of the machinery and equipment used in these industries mean that any replacement equipment is unlikely to be supplied immediately. Lead time for this equipment could be months and this will prolong interruption periods.
Recovery of an Insured's supply chain will also impact on business interruption losses. Factories will only become fully operational once its supply chain is fully operational. Understanding these supply chains will be crucial when assessing and managing business interruption claims.
For further information or assistance please contact:

James Capell, Director, Concordia Consultancy, London
Tel: +44 (0) 2076238461
James.Capell@concordiaconsultancy.com
Sam Koh, MD of Concordia Consultancy (Asia Pacific), Singapore
Tel: +65 6246 4672
sam.koh@concordiaconsultancy.com