Storm Imogen slams into southern Britain and Wales with severe gales and heavy rainfall.
8th February 2016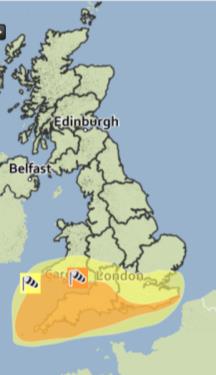 Image. Gale force winds warnings for 8th February
Source: Met Office
Storm Imogen has brought gale force winds and wind gusts of up to 96mph to parts of southern UK. The Met Office has issued an Amber warning for gale force winds to south-west England, Cardiff, London and south-east England.
Policyholders are preparing for property damage, business interruption and widespread disruption. An estimated 13,000 properties are without power, whilst there is a further threat from localised flooding.
Concordia Consultancy's Loss Adjusting team are ready to assist with claims across the south and the wider UK. Our highly skilled and experienced team specialise in property, business interruption, marine and construction losses.
Our team also remain active and are available to provide a range of additional services, including site surveys, project management, dispute resolution and risk consulting, together with the review and proactive handling of claim portfolios.
For immediate guidance and assistance, please contact:
Ian Woodhead,
BSc (Hons), FRICS, ACII, FCILA, FUEDI-ELAE, FIFAA, MInstLM
Managing Director, Concordia Chartered Loss Adjusters Ltd and Senior Consultant,
Telephone 24/7: +44 207 623 8461
Mobile 24/7: +44 (0) 7513 044 514
Email: ian.woodhead@concordiaconsultancy.com