Concordia featured in CILA October Newsletter
16th October 2012
The Chartered Institute of Loss Adjusters (CILA) newsletter for October features Concordia for our support of their new Internship Programme as well as celebrating James Gee achieving the CILA Certificate.
Gary Cheung from Warwick University worked in our Head Office in London, City for four weeks alongside our Directors, Consultants and Support Staff in June 2012. He assisted on a variety of International claims whilst being mentored by our Deputy CEO and Managing Director of Concordia Chartered Loss Adjusters Ltd, Spencer Clark.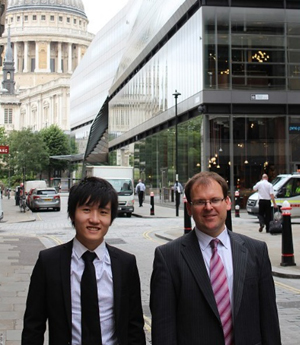 Gary and Spencer photographed above.
Concordia support new initiatives to bring in new talent to the loss adjusting profession and have supported many academic programmes and institutions.
Second to feature in this month's newsletter is our Consultant James Gee who has obtained the CILA Certificate. The qualification has enabled him to demonstrate years of knowledge with a recongnised qualification from a world-renowned institution. This is his initial step in working towards the CILA Diploma. To view James's full CV please click here.
To download the October CILA newsletter please click here.