Update: Hurricane Matthew Alters Course to Strike the USA
7th October 2016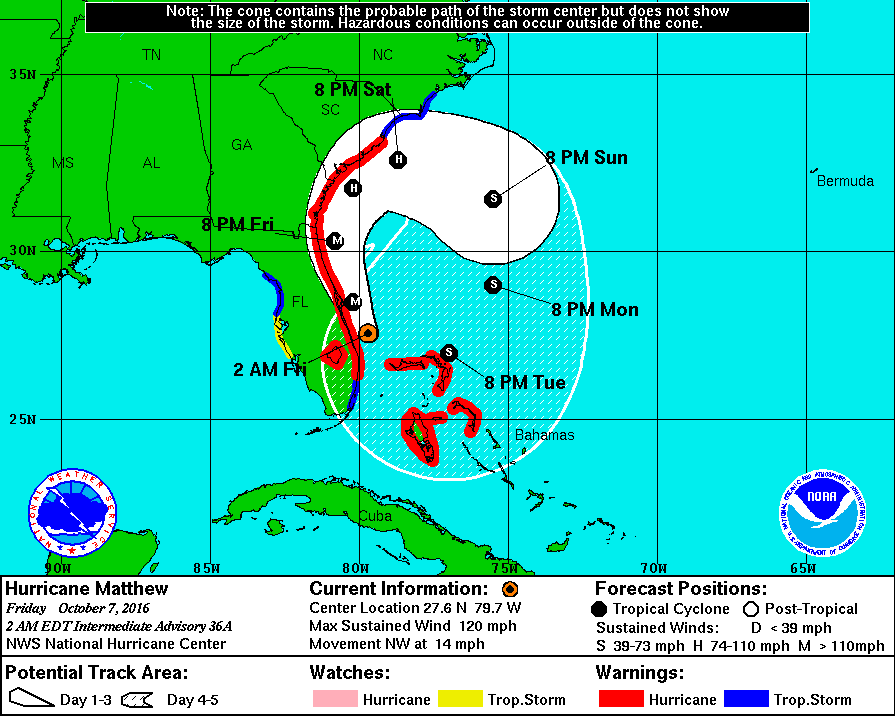 Source: NOAA
Hurricane Matthew continues its path of destruction after passing through the Caribbean, with latest forecasts indicating high probability of damage to the East Coast of USA.
The category four system has already brought wide spread damage to the countries of Cuba, Bahamas, Haiti and Dominican Republic. Matthew is currently situated just east of Florida with landfall immanent.
Extreme weather conditions are forecasted to affect the south east region of the USA, with sustained wind speeds of 125 mph, storm surges in the region of 4 – 11 ft accompanied with high rainfall, with some locations receiving 12 inches.
Damage is to be widespread affecting, lives, properties, business, marine vessels and coastal structures.
Concordia's experienced Global CAT response team is currently on standby to provide assistance as required across the region, providing claims assistance for losses in property, business interruption, marine and construction losses and more.
Concordia's Global Network of licensed adjusters are on the ground in the affected region, operating across the Caribbean and south east USA, providing support and up to date information about the changing environment.
From our London, head office we are able to coordinate resources and liaise with the UK or International insurers and reinsurers as required to provide a full end to end service.
For immediate assistance, please contact:
Ben Carroll in London on +44 7850 709935, and by email at ben.carroll@concordiaconsultancy.com
Daniel Bloch in London +44 7989 933 518, and by email at daniel.bloch@concordiaconsultancy.com